Become an Unclutter Affiliate
Start earning money by simply recommending our highly acclaimed
productivity app on your website, social media, or newsletter.
20% Payout
From each & every
sale you refer

Unclutter
Files, Notes & Clipboard
Manager for Mac
1. Set up your Impact account
We use Impact to track sales and handle payments. It's a reliable, fully automated affiliate platform.
Click here
to create your affiliate account. If you already have one, please click "Log In" at the top.
Otherwise, you can sign up quickly by filling the form or using your social network account.
We personally review every application, so it may take some time.
And once you get approved, please proceed to the next step.
2. Create your affiliate link
Within Unclutter affiliate program you will find a set of ads, including graphics and links.
Please use Impact dashboard to create your own affiliate link.
3. Promote Unclutter and get paid
Use your affiliate link to recommend Unclutter to your users and get your affiliate revenue. It can be an ad on your website, a post on your blog or social media, a video review on YouTube, a newsletter, or anything else.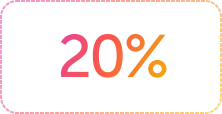 4. Track your sales
Once you have everything set up, you can always log in to your Impact account to check you stats and payments. The more customers your bring, the more revenue you get. We apply no limits.