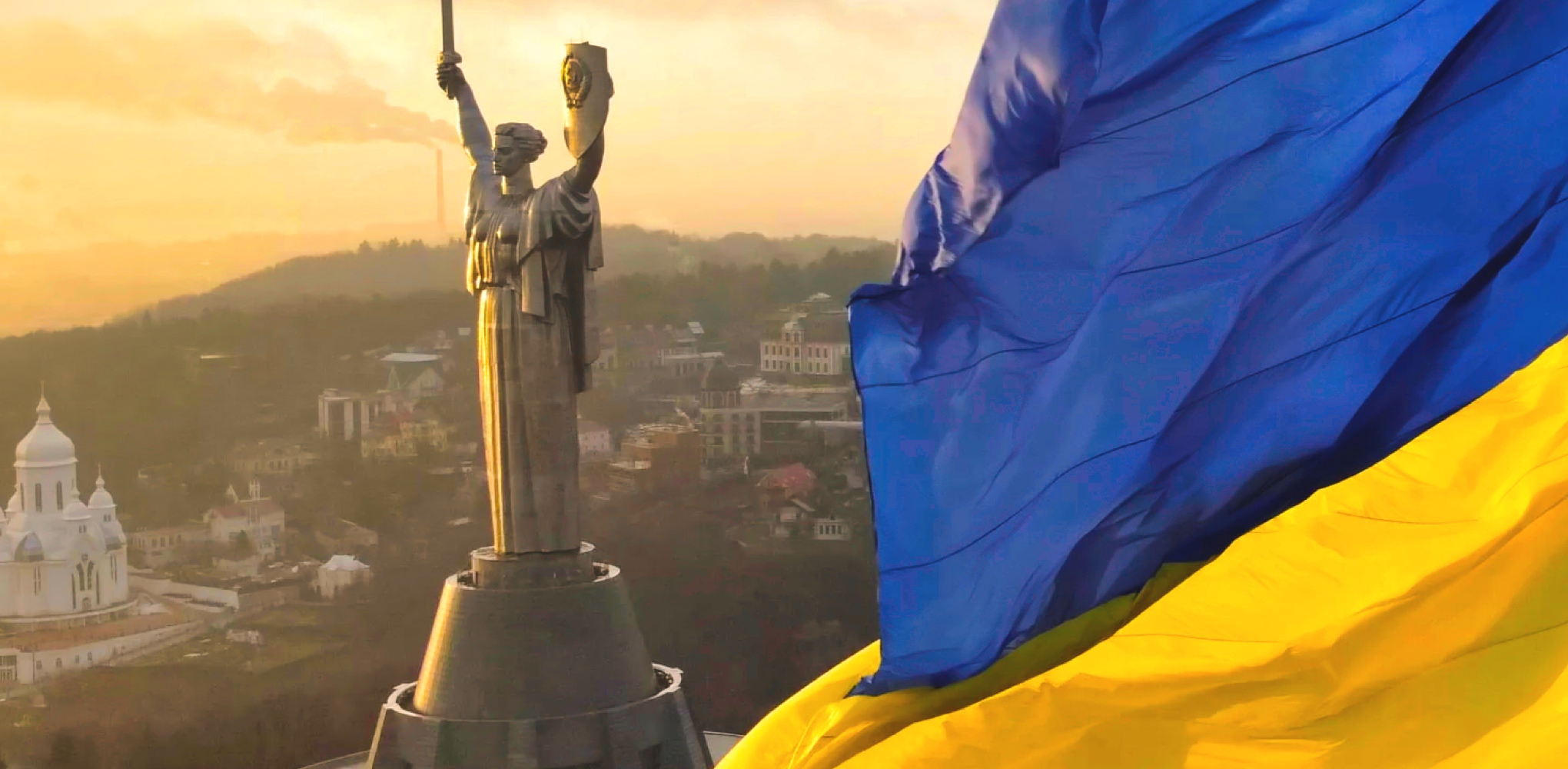 You know, this war is undoubtedly one of the most tragic things that happened in the last few decades. Many Ukrainians won't be able to survive it. And those who will – will bear the scars for the rest of their lives. It's a massive tragedy for the entire Ukrainian nation.
However, it's also a crucial milestone in global history. A whole chain of deep structural changes is happening right now. The world will never be the same. And though some people experienced it more than others, nobody can really stay aside.
For us this change came quickly – our peaceful life has come to an end. You hear the first sounds of air raid sirens… and then all of your plans, habits, and career goals no longer make any sense. Your priorities are now completely different… First and foremost, you start caring about safety. Safety for your family, friends, relatives – everyone you can get in touch with and take care of.
You know, I've seen people unite in the face of the danger before. Still, I have never met so many of them ready to help or give shelter to anyone in need. No questions. Just kindness and understanding. This is truly something incredible.
What's even more impressive – it seemed that in one moment all Ukrainians, as one, switched to defending their country one way or the other. Those who didn't take up arms became volunteers and are now helping the army and the civilians who suffered from the war.
I don't really like ants, but those creatures always come to mind when I think of this intricate and self-organized volunteer network. Ideas get converted into actions almost immediately; every issue gets resolved.
The interesting part is that nobody is actually inviting you to join the common cause. You just start doing something on your own. Soon you find yourself among other volunteers working together. And that's it – you are part of the amazing complex supply chain without even noticing.
That's exactly what happened with the Unclutter team. The war reached us in different cities. But each of us tried to help in any way he could, literally from day one. Then we joined our forces, which increased our capabilities.
It's true – there were challenges. We've had many issues with payments, purchases, and delivery. Long-known and trusted methods didn't work, so we had to look for new ones. But thanks to Irina Krupnova, our CMO, there was no problem we could not resolve. And now, having all that experience behind our backs, everything is being done way faster and smoother.
Today on May 28, 2022, it's the 94th day of the heroic fight of the Ukrainian nation against Russian aggression. And I want to share what we've managed to achieve during this time thanks to your support.
As you know, we've launched a fundraising campaign on March 7. This was my birthday.
Since then, we've collected $35865 from 1091 donations.
I really want to say thanks to everyone who's participating. We're extremely grateful. You're truly amazing people!
REPORT #1
ALREADY DONE ✅
Diesel generators have turned out to be in huge demand. So, it became the first thing we supplied for refugee camps and field hospitals.
Diesel generators:
| | | | |
| --- | --- | --- | --- |
| | Name/Model | Qty. | Price |
| 1 | Vitolux VXD7500S-3 | 1 | 2 354,19 USD |
| 2 | Forte FGD8000E | 1 | 2 268,07 USD |
| 3 | EnerSol SKD-6EB-3 | 1 | 1 312,48 USD |
| | TOTAL |   | 5 934,74 USD |
* Applicable tax and delivery cost included
On the central photo you can see Oksana Maniuchuk, a member of a volunteer organization called "Zahyst" (Protection), who helped to get one of the generators to the right hands and put it into operation.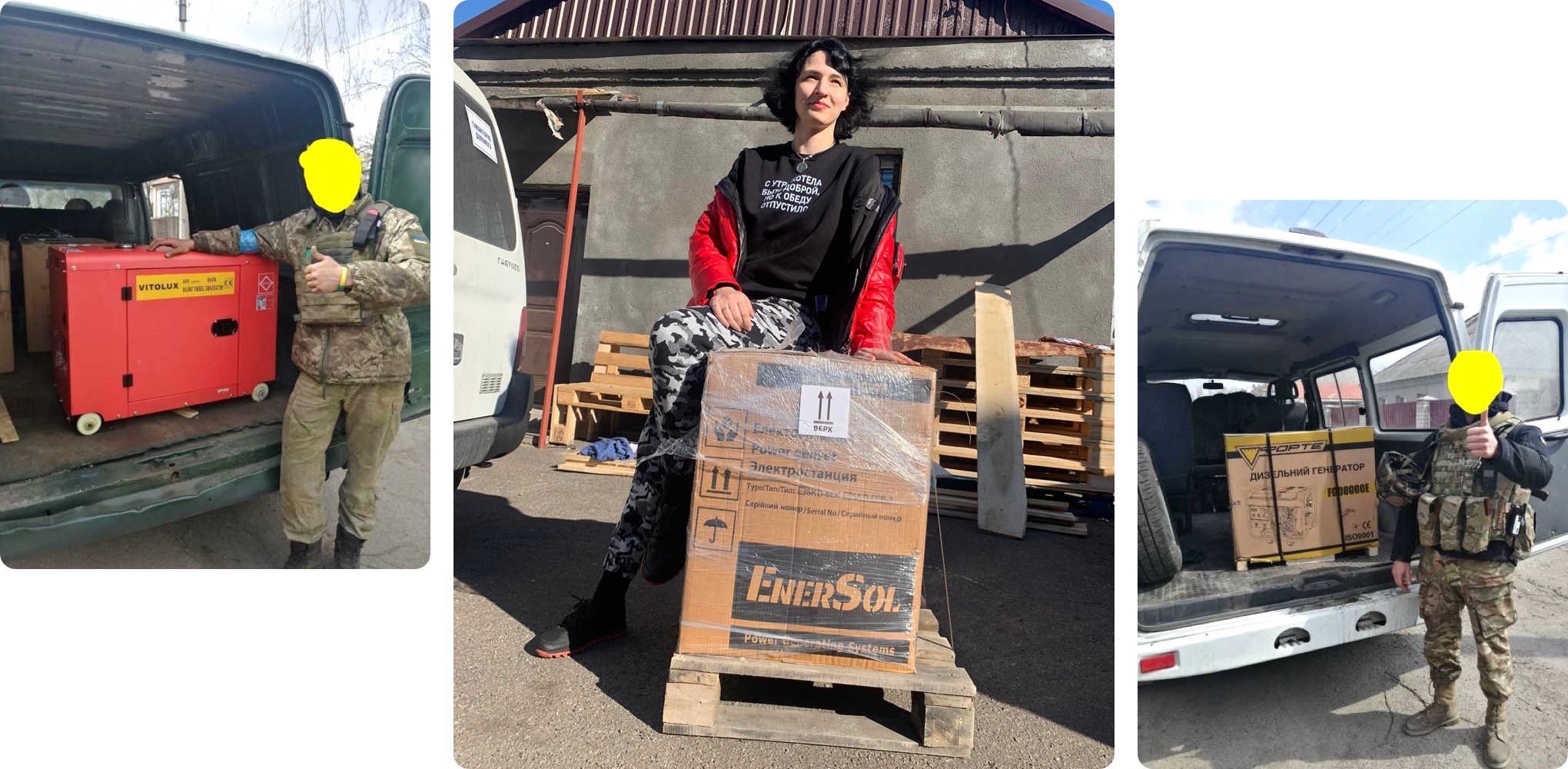 Medicine:
| | | | |
| --- | --- | --- | --- |
| | Name | Qty. | Price |
| 1 | Surgical suture material (DACRIL, BIOPRO, BIOSTER) | 864 | 2 925,29 USD |
| 2 | Celox Rapid 6g Plunger (RMCP01) | 100 | 4 145,03 USD |
| 3 | Celox Granulat 15g pack | 159 | 6 096,90 USD |
| | TOTAL |   | 13 167,22 USD |
* Applicable tax and delivery cost included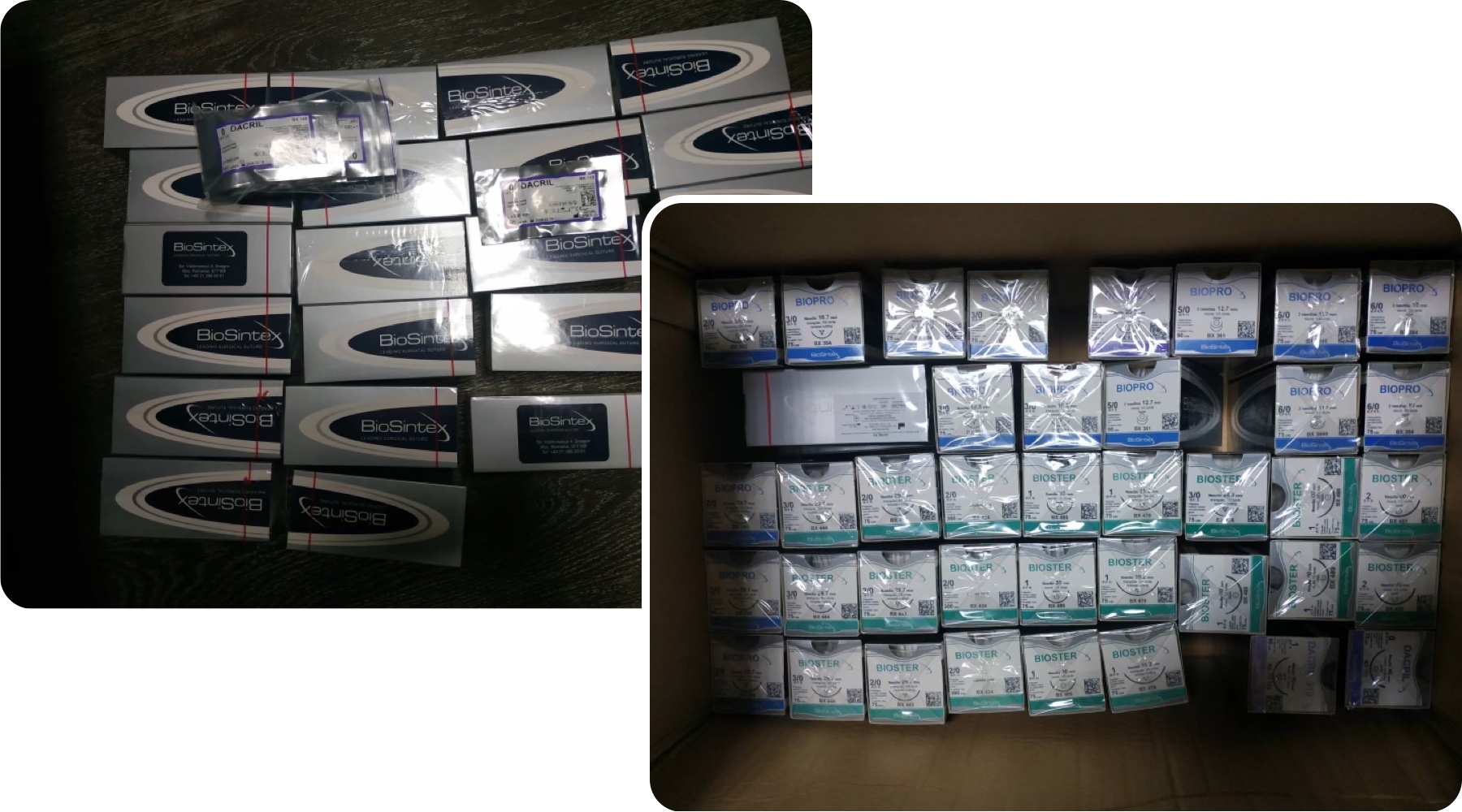 Charity donations:
| | | |
| --- | --- | --- |
| | Name | Amount |
| 1 | Charitable Foundation «Dobrodii» (Child care) | 2 000 USD |
REPORT #2
DOING RIGHT NOW ⬇️
For now, we're supervising the items we already bought, preparing all the necessary documents, and also donating to other organizations and charity foundations.
Donations:
Name
Amount
1
Charitable Foundation «Dobrodii» (Child care)
1 000 USD
2
Special Fund to support Ukraine's Armed Forces
(National Bank of Ukraine)
1 000 USD
3
Volunteer Center to supply our armed forces with protective gear
(Public organization «SOLIDARNA SPRAVA HROMAD»)
1 000 USD
REPORT #3
WHAT WE DO NEXT 🕑
Completing these request and deliveries has allowed us to find more opportunities for continuing our volunteering work. We're already negotiating the following objectives:
Donations to Charitable Foundations and Volunteer Organizations
that help Ukrainian refugees and migrants
± 4 000 USD
Purchase and delivery of more medicines (tourniquets to stop blood loss)
* highly requested
± 6 500 USD
By this point, we will have spent about $34 600
out of the total of $35 865

Our team is constantly staying in touch with the volunteers in the regions that suffered the most. We're already receiving new requests from them.
On top of that, recently we found a new opportunity to participate in the purchase of inexpensive trucks and emergency vehicles to provide all-round assistance for people on the battlefield. Negotiating this now as well.
END OF REPORT
CONCLUSION 💙💛
First of all, dear friends, that was a fascinating experience!
And if you're ready to help more, we're ready to keep doing everything we can, where we can and how we can, to help our people.
Secondly, let me thank everybody who joined our endeavor once again. I'm certain that together we've already saved many lives. And we're going to save even more!
This war has really provided a fresh perspective on many things. Many people discovered more about themselves and those around them. Many realized who their real friends are.
The world is changing rapidly. And I want to say that I'm extremely happy to live alongside you in this new world. I really appreciate your kindness and support in these tough times.
Eugene Krupnov,
Unclutter CEO